From Struggle To Strategy: IAMM The Boss!
No Unicorns (And Other Hiring Myths Debunked!)
Employment Ads that Attract
Phone:
202 258-0655
Phone:
202 258-0655
Travels From: Washington, DC,
Speaker Description:
Powerful, thought provoking, and personable, Talmar Anderson knows how to create dramatic shifts in your audience's perspective on what it means to be the boss of their businesses. Talmar's historical success in speaking at conferences enhance both the positive spirit and the delivery of immediately usable insight and "how to" for each attendee. Not about "cracking the whip" - Talmar's "fluff free" approach is relatable, creates real results, and is instantly beloved by audiences at large.
Talmar is founder of Boss Actions (Talmar It Up) and CEO of TrustEd At Home.  She is a former host of "Business Side" of Business Podcast and was featured on 2018/2019 "Fix My Brand" with Ali Craig Internet TV show.
Keywords: Hiring, Management, Team building, Communications, Scale a business,

Additional language: english,
Speaking Fees: Negotiable

Communication
During this bold and impactful talk, the audience is challenged on how they say what they say and to bring a new perspective to their day to day conversations.  They leave with a new approach that applies to building teams as well as their personal life to make a shift that not only can make them more successful, but happier!
Why we hear differently!
Learn the 3 pieces to every sentence uttered out loud
Malice or No? The Choice is Yours!
Learning
Leaders, teams and individuals can take part in an eye opening discussion that will allow each listener to question and better understand how they speak AND listen to others when in any conversation.  The challenge from Talmar Anderson at the end can create the space and "how to" allowing anyone to leave every conversation positively!
Hiring
We all know that hiring employees has a major impact on the success of the business.  You might be wondering "I have been burned by bad employees in the past.  How do I know if I am hiring a good one?" or "I need to expand my company, but I have never hired before. How do I attract the right person to fill the job?" 
Key Takeaways
 During this jam-packed presentation, you will learn to best attract and grow your team!
The Number 1 shift you make to build a successful team.
Actionable steps on how to improve a hiring process.
Clarity on how you are likely sabotaging your hires!
Hiring


My fellow entrepreneurs and business owners, does any of this sound familiar?
Does the idea of managing people make your head spin with images of overlords and micro-managers?
Have your experiences hiring and managing left you with an involuntary twitch-like eye roll at the mention of employees?
Do you find yourself constantly talking about how you "need" to hire but unable to create action?
Maybe you find yourself in a constant place of uncertainty - "Is NOW the right time?"
It's time we worked through this for YOU and YOUR BUSINESS!
Join this Boss Actions workshop where we will discuss some of the ways business owners can get in their own way of confidently growing and building their own rockstar team! 
Key Takeaways
We will find ways to:
Build comfort and understanding in the role of Boss
Develop an eager and hopeful future outlook for you and your team
Define goals that can build confidence and ease in decision making
Kickass teams are where Freedom and Success meet so we want to start your shift NOW! This is your shift from business owner to Boss.  We are going to squash the voices in your head!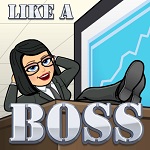 Be forewarned...Boss Actions' clients end up with a new voice in their head...usually Talmar's voice encouraging and inspiring the kind of action that helps you identify what needs to be done LIKE A BOSS!
Hiring
Building your company's best possible team is not a dream - it is REQUIRED! During this presentation, your audience will learn the key shifts they can make - in mindset and tactics - to learn to build their own kick-ass team!